教室で行われている基礎研究について、主な研究領域と最近の代表的な論文を紹介します
消化器の発癌メカニズム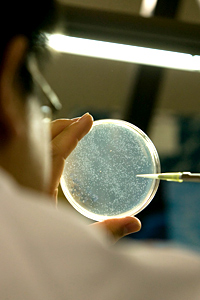 日本人の3人に1人が癌で亡くなる時代を迎え、その約半数が消化器癌とされています。遺伝子改変マウスによる膵癌関連遺伝子の解析、胃発癌機構の検討、大腸発癌における癌微小環境の解析、慢性肝疾患から肝発癌にいたる分子メカニズムの研究など、 広範な消化器癌のすべてを対象として、新しいコンセプトの提唱、新規治療標的の発掘を目指しています。
消化器をつなぐ免疫ネットワーク
近年、消化器疾患の病態に、免疫、代謝などによる全身のネットワークが大きく影響を及ぼしていることが明らかになってきました。 炎症性腸疾患、IgG4関連疾患、非アルコール性脂肪性肝疾患など、様々な消化器疾患に対する全身の免疫、代謝ネットワークの影響を明らかにしていきます。
消化器の幹細胞とホメオスターシス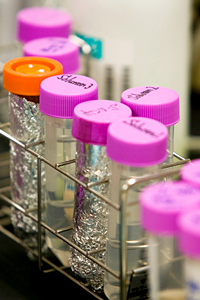 消化器臓器の恒常性維持や、消化器癌の発生、進展の過程で、幹細胞を頂点とする階層性と細胞の自在な可塑性が大きな役割を果たしています。遺伝子改変マウスや生体外3次元培養系において、多光子顕微鏡によるライブイメージングや細胞系譜解析を用いた「変化の見える」解析を行い、再生医療、副作用の少ない癌幹細胞標的治療を目指した創薬シーズの同定などを展開しています。
Goto N, et al. Lineage tracing and targeting of IL17RB+ tuft cell-like human colorectal cancer stem cells. Proc Natl Acad Sci U S A.2019 Jun 25;116(26):12996-13005.
Yoshioka T, et al. Bmi1 marks gastric stem cells located in the isthmus in mice. J Pathol. 2019 Jun;248(2):179-190.
Hiramatsu Y, et al. Arid1a is essential for intestinal stem cells through Sox9 regulation. Proc Natl Acad Sci USA. 2019 Jan 29;116(5):1704-1713.
Tsuda M, et al. The BRG1/SOX9 axis is critical for acinar cell-derived pancreatic tumorigenesis. J Clin Invest. 2018 Aug 1;128(8):3475-3489.
Kimura Y, et al. ARID1A Maintains Differentiation of Pancreatic Ductal Cells and Inhibits Development of Pancreatic Ductal Adenocarcinoma in Mice. Gastroenterology. 2018 Jul;155(1):194-209.
Matsumoto T, et al. Proliferating EpCAM-Positive Ductal Cells in the Inflamed Liver Give Rise to Hepatocellular Carcinoma. Cancer Res. 2017 Nov 15;77(22):6131-6143.
Goto N, et al. Distinct Roles of HES1 in Normal Stem Cells and Tumor Stem-like Cells of the Intestine. Cancer Res. 2017 Jul 1;77(13):3442-3454.
Takada Y, et al. Brg1 plays an essential role in development and homeostasis of the duodenum through regulation of Notch signaling. Development. 2016 Oct 1;143(19):3532-3539.
Nakanishi Y, et al. Dclk1 distinguishes between tumor and normal stem cells in the intestine. Nat Genet. 2013 Jan;45(1):98-103.
消化器とそれをとりまくオミックス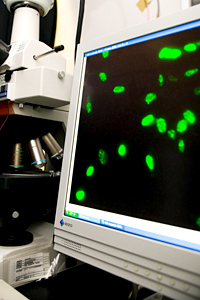 消化器領域には、感染によって慢性炎症から発癌をおこす病原微生物がいくつかあります。代表的なものがヘリコバクター・ピロリ菌であり、B型肝炎ウイルスやC型肝炎ウイルスです。これらの細菌やウイルスと宿主=ヒトの消化器臓器を対象として、次世代ならびに第三世代シーケンサーを用いた遺伝子解析や分子生物学的解析から、病態との関連や炎症発癌メカニズムの解明、さらには新規治療法の開発に取り組んでいます